Taking luxurious baths is a ritual I've enjoyed since I was a young girl. Bathing is a tranquil sanctuary that is healthy for the mind, body and spirit.
Showers are popular for their speed, but baths are best for hygiene, pleasure and treating the skin on the body. That's why I'm happy to share with you my new Deep Relaxation Epsom Bath Salts.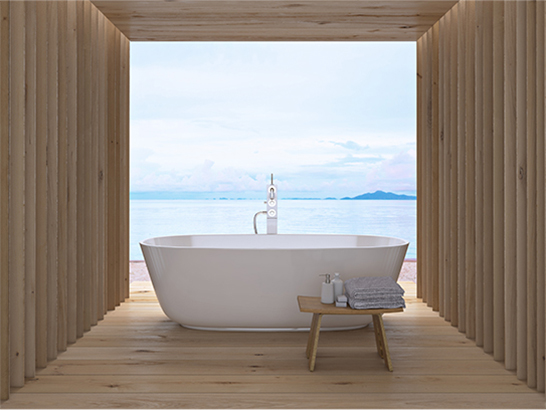 Baths are always popular with children, but as a busy adult we feel we don't take the time of soaking in the tub. So, you jump in the shower, you towel off and move on with your day. That's fine, but your missing out if you don't take time to relax in an Epsom salt bath once in a while. If you can carve out 20 minutes, you may find it makes a huge difference in your overall health.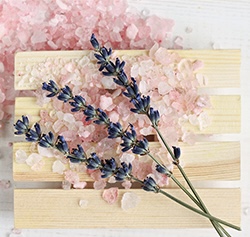 Using Epsom salts with lavender cleans, exfoliates and helps with irritation and inflammation caused by dead skin cell accumulation. Want beautiful feet? You definitely need to exfoliate and soak them. Bathing with Epsom salts also helps clear away the bacterial and fungal load from contact in your environment. Soaking in warm water with Epsom salts opens up your pores, and flushes out the dirt that can accumulate during the day.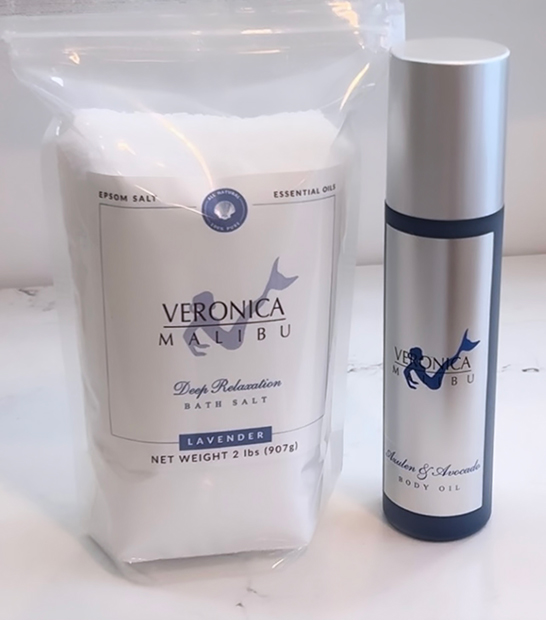 There is no right or wrong way when it comes to the question of showering after a bath. A quick shower after a bath is always refreshing. You can also make your own salt glow in the shower by adding a few drops of the Veronica Azulen & Avocado Body Oil to a handful of the Bath Salts for a delightful deep cleansing body scrub. Your skin will thank you.
Epsom salt is made of magnesium and sulphate. Magnesium is known to increase relaxation, reduce inflammation, and aid in muscle nerve function, while sulfate helps with recovery and detoxification. Magnesium deficiency is associated with muscle aches and cramps. Taking an Epsom salt bath increases our magnesium levels and reduces muscle soreness.
Lavender has been used for centuries for its beneficial and anti-inflammatory healing. Lavender is beneficial for a variety of conditions, including insomnia, anxiety, stress and dry skin. The name lavender come form the Latin word lavare, which means "to wash."
When I was in Egypt in the1980's I studied with a famous aromatherapist. I found that lavender essential oil was a favorite ingredient in ancient times, not only because of its wonderful fragrance, but because it would also cleanse and disinfect the bath water due to its antibacterial and antiviral properties. This herb has also been used as a remedy for a range of ailments form insomnia, anxiety, depression and fatigue. Research has confirmed that lavender produces calming, soothing sedative effects when its scent is inhaled. That's why it's excellent when used in a warm soaking bath.
Always moisturize after gently toweling off to keep skin hydrated and healthy.
I'm a firm believer in self-care. After a long day, add some Deep Relaxation Bath Salts to your bath, foot bath or use a handful as a soft body scrub. It will help wash your stress away, give you hydrated, smooth, beautiful skin, and help you get a good night's sleep…I promise.
Here's to Health!
Veronica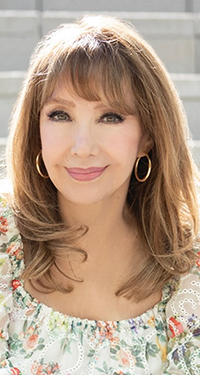 "And the beauty of a woman, with passing years only grows!" – Audrey Hepburn