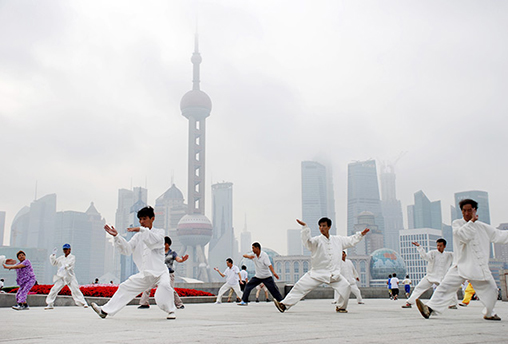 Carl and I spent four glorious days in Shanghai. The beautiful city of Shanghai is a bit difficult to place into words. I think that Shanghai is a city of contrast…the new, the old, the modern, the traditional, and all the glamour that came along from ancient times. Loving Tai Chi, I was especially excited to see see groups of locals performing stately, synchronized tai chi routines on the Bund every morning.
The Bund is Shanghai's main stage, a long riverside sweep of colonial buildings and parkland. I wished that our Tai Chi Master Doria Cook-Nelson had been there with her students to see and experience this sight.
At the luxurious Evian Spa in Shanghai I enjoyed a rose petal, essential oil soak that was followed by their Italian red wine body scrub. It included a heavenly massage. This treatment was followed by a lavender body wrap. This cured my jet lag.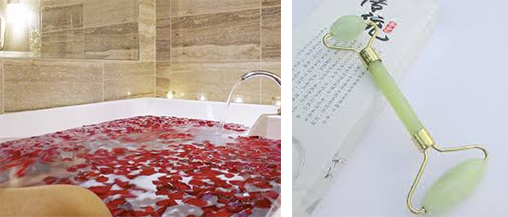 I enjoyed an aromatherapy facial that was made up of flower extracts and pure essential oils. The esthetician used a jade face roller. High-quality jade is believed by many to have natural health-enhancing functions, and lymphatic draining massage is good for the face and neck. These beauty techniques are used today at many spas around the world, but are classical Chinese beauty treatments. Smooth, heated black basalt stones were integrated into the therapeutic neck and hand massage, resulting in a deeply relaxing treatment. The placement of the stones on different parts of the body helps melt away tension and ease pain in fatigued muscles of the body. We incorporate these same stones and jade rollers in some of our treatments at the spa for the face and body.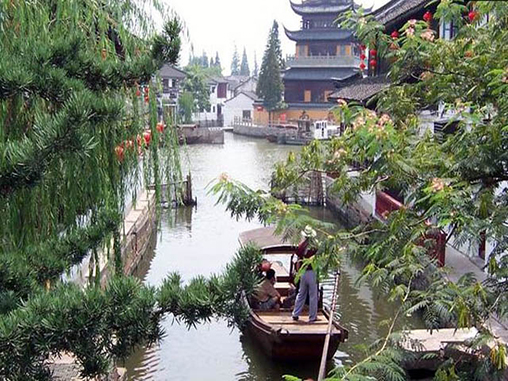 Located in a suburb of Shanghai, Zhujiajiao is an ancient water town, with a history of more than 1700 years. Also named 'Pearl Stream', this little town is the best preserved ancient town in Shanghai.
Unique old bridges, small rivers shaded by willow trees, and houses, each with their own courtyard are still kept well preserved. The architecture which is dated back to 5,000 years ago, is still standing here quietly.
The most iconic bridge in the center of town. The Fansheng Bridge built in 1571 by the monk Xingchao of the Cimen Temple. The teahouses that line the river are more like mini libraries that serve organic drinks and home made food.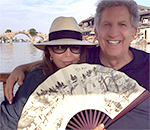 It was like going back in time to spend time in Zhujiajiao.
We ended our trip to China in Hong Kong. Hong Kong was the busiest city I've ever visited. This city is all about motion. It's an invigorating jolt on the senses, with motion, speed, 8 million people, and bursting colors everywhere!
We stayed at the Peninsula Hotel, the oldest hotel in Hong Kong. Staying at the Peninsula gave me a taste of old Hong Kong. Our room overlooking Victoria Harbour and the city skyline of Hong Kong island was stunning.

For years I had heard about the Peninsula afternoon tea. A live quartet plays classical music in the gold and cream colored lobby, and between the glittering chandeliers and the lush palms, it is very much a magical setting. Our mango tea and 3 tiered cake plate was delicious.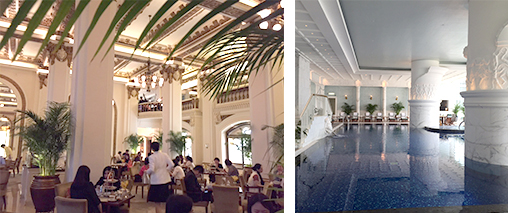 I loved swimming in their beautiful saltwater pool. They also combine Oriental, Ayurvedic and European techniques in all of their spa treatments.
Visiting Shanghai and Hong Kong was exciting. I hope to return and experience it again one day.
Love,
Veronica
"A bit of fragrance clings to the hand that gives flowers." – Chinese Proverb