Currency: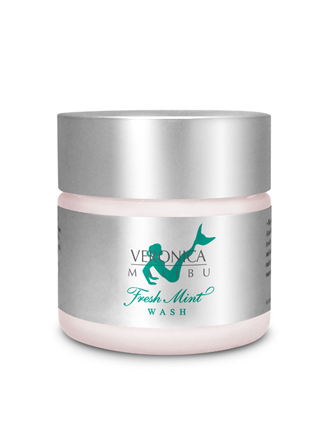 Fresh Mint Wash
2 oz. – The Veronica Malibu Mint Wash is a mild pH-balanced facial cleanser recommended for normal to oily and combination skin types. It instantly softens the tap water and dissolves oily and contaminated sebum from the skin's surface.
Beneficial to the skin because of its selective blend of natural botanical extracts
Helps control oily skin without over drying
Unclogs pores
A favorite in Malibu for over 28 years!
Aloe Vera Gel, Stearic Acid, Hydrogenated Polyiosbutane, Shea Butter, Dimethicone Copolyol, Thyme Extract, Horsetail Extract, Sage Extract, Cetyl Alcohol, Triethanolamine, , Sodium Trideceth Sulfate, Menthol, Spearmint Oil, Peppermint Oil, Sassafras Oil, Sodium Hyaluronate, Carmine, Phenoxyethanol, Potassium Sorbate, Sodium Benzoate.
Use twice daily. Apply a small amount (the size of an almond) to a wet face and massage gently in a circular motion for 30 seconds. Rinse thoroughly with warm water and gently pat dry. Apply moisturizer.