Currency: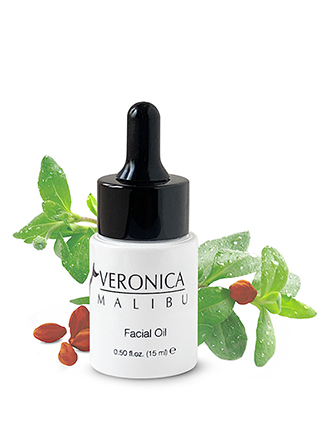 Veronica Malibu Facial Oil
0.50 fl. oz. – Facial Oil is an incredibly light-weight and fast absorbing face oil that helps instantly to brighten and energize your skin. The hydrated finish promotes a more youthful and firmer complexion. Use it alone or over a moisturizer for more hydration.
Our skin is a delicate, complicated organ that depends on certain natural oils to maintain a healthy balance and clear complexion. When we're young, oils are produced by our skin. As we get older, we produce fewer, and our skin needs help adding them back in order to keep a healthy lipid barrier, locking in moisture and preventing dehydration. The proper oils have the ability to regulate blemishes and preserve the pH of your skin for a balanced complexion. The Facial Oil gently infuses the skin with Jojoba, Calendula, Rosemary and Jasmine Oils. This lightweight formula absorbs quickly, to leave your skin glowing and never greasy.
Calendula Oil provides anti-inflammatory properties to soothe, calm and nurture skin. Jojoba Oil is one of the most similar oils to that of our own skin. Jojoba Oil has anti-inflammatory properties, which is effective in treating acne, eczema, and psoriasis. Rosemary Leaf Extract provides antioxidant benefits, as well as helping to invigorate microcirculation. Sunflower Oil consists primarily of triglycerides of linoleum acid (and essential fatty acid) and oleic acids. Vitamin E is a powerful antioxidant that protects the skin from aging free radicals, and environmental assaults.
Hydrates & balances
Improves skin texture
Absorbs quickly
Light oil and not greasy
For all skin types
Formulated without parabens
Jojoba Seed Oil (Simmondsia Chinensis), Soybean Oil (Glycine Soja), Sunflower Seed Oil (Helianthus Annuus), Calendula Officinalis Flower Extract, Rosemary Leaf Extract (Rosmarinus Officinalis), Vitamin E (Tocopheryl Acetate)
Apply a pearl drop over a cleansed face and neck AM and PM.
Dab or pat oil into your skin, this will help your skin absorb the Facial Oil and make use of its benefits much quicker.
Use the Facial Oil before your sunscreen and makeup in the AM.
Use the Facial Oil after applying your serums and moisturizer in the PM.
You can add a drop to your body and facial moisturizers to make them more effective and hydrating.