Currency: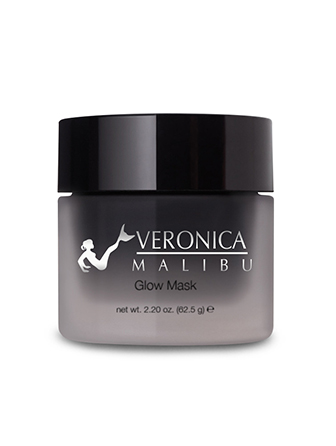 Veronica Glow Mask
2.2 oz. – The Veronica Malibu Glow Mask is a deep-cleansing mask that restores radiance by eliminating toxins and impurities.
This mask energizes the complexion to reveal and healthy and youthful glow! The thermal, charcoal formula activates with water, creating a warming sensation, while helping to melt away dead skin cells.
Gluten Free
Charcoal Powder draws out dirt and pore-clogging debris
Prevents problem causing bacteria
Decongest pores
PEG-8, Sodium Bicarbonate, Butylene Glycol, Glyceryl Stearate, Silica, Kaolin, Charcoal Powder, Tocopheryl Acetate, Sea Salt (Maris Sal), Potassium Stearate.
Apply a generous amount to a dry face, being careful to avoid the immediate eye area.
Leave on for 5 minutes, then wet finger tips and lightly massage into skin to activate.
Remove with moistened cotton pads and rinse well with warm water.
Follow with moisturizer and sunscreen in am or Veronica Hydrating Night Cream in pm.