Currency: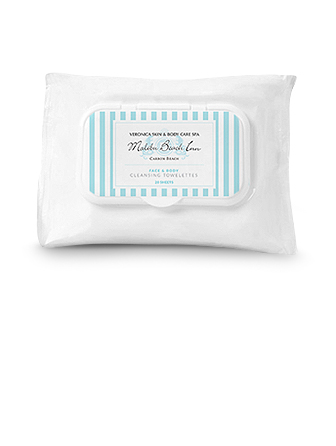 Face & Body Cleansing Towelettes
Towelettes remove your most stubborn makeup in one easy step. These gentle soft cloths leave your skin thoroughly clean with no traces of makeup, dirt and oil – so there's no need to rinse! Perfect for those beach cleanups on sensitive skin and plane travel. Do not flush.
Water (Aqua), Propylene Glycol, Polysorbate-20, Phenoxyethanol, Benzoic Acid, Chamomillia Recutita Extract, Dehydroacetic Acid, PPG-40-PEG-60, Lanolin Oil, Polyaminopropyl Biguanide, Tetrasodium EDTA, Sodium Citrate, Isopropyl Myristate, Caprylic/Capric Triglyceride, Vitamin E, Citric Acid, Panthenol.
Peel back tape and use wipes as needed. Close lid firmly after each use to keep moist. Store at room temperature. Gently wipe your face starting along the outside of your face (hairline, neck and cheeks) and then work your way toward the center face. Take off eye make-up. Dispose of the towelette in a trash receptacle (Do not flush).