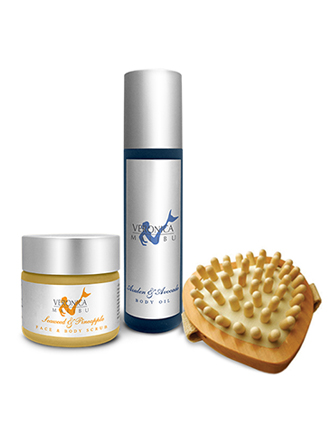 Veronica Malibu
Anti-Cellulite Kit
Renew, Recharge and Rejuvenate with the Malibu Anti-Cellulite Body Kit. Three-piece body kit includes a Hand Held Wooden Massager, Rich Azulen & Avocado Oil and Luxurious Fragrant Seaweed & Pineapple Scrub.
HEART SHAPED PEG CELLULITE MASSAGE BRUSH
Improves lymphatic drainage and helps improves circulation and helps to facilitate the removal of toxin from the body.
Helps lymphatic drainage
Improves circulation
Helps facilitate the removal of toxins from the body
SEAWEED & PINEAPPLE SCRUB
The Seaweed & Pineapple scrub is an effective & gentle exfoliating, refining and nourishing treatment scrub for face & body. Bromelain enzymes (Pineapple) and the action of jojoba beads effectively remove excess surface cells and improves texture of skin and leaves the skin with a luminous glow.
Gentle Scrub designed for frequent use
Chamomile, Pineapple, Papaya & Seaweed moisturizes/cleanses skin without drying it out
Refreshing Pineapple scent
AZULEN & AVOCADO OIL
Nourishing and conditioning oil for the body. Contains essential oils of Avocado, Azulene, Olive, Sweet Almond
Peach Kernal and Vitamin E.
softens skin instantly
excellent for massage
regenerates and restores elasticity of the skin
enriched with Vitamin-E
excellent for heels and elbows
SEAWEED & PINEAPPLE SCRUB
Deionized water, aloe vera, glycerin, seaweed extract, jojoba oil, chamomile extract, hydrozyporpyl methyicellulose, carbomer, sodium PCA, papaya extract, pineapple extract, bromelain enzymes and papain enzymes, lecithin, triethanolamine, plysorbate 20, phenoxyethanol, sodium benzoate.
AZULEN & AVOCADO OIL
Olive oil, avocado oil, sweet almond oil, caprylic/Capric Triglyceride, Peach Kernel oil, Retinyl palmitate, squalene, azulene and fragrant oil.
HEART SHAPED PEG CELLULITE MASSAGE BRUSH
STEP 1 Massage cellulite areas in circular motion, moving in a large circular pattern. For example, massage your thighs by placing the wooden brush on your skin and drawing orange-sized circles over the cellulite.. Apply even pressure with your hand-held wooden massager on your thighs and other cellulite-prone areas. Follow your muscles along your leg. Work slowly, and only press as deep as feels comfortable.

This will improve your muscle tone and circulation, contributing to healthy skin. Increased muscle tone may result in a less-dimpled appearance.
STEP 2 Rub Seaweed & Pineapple Scrub on body and massage in circular motions. Let it sit for a while to let the enzymes do their work.
STEP 3 Apply the Azulene & Avocado Oil on your skin. This provides a natural moisturizer and is most effective right after a shower or bath.
SEAWEED & PINEAPPLE SCRUB
Apply to face and body and massage in circular motions. Rinse thoroughly, then follow with oil or moisturizer. Use once or twice weekly.
AZULEN & AVOCADO OIL
Apply after bath or shower, body oil is best applied on warm and moist skin. Massage into your skin and then put on a cotton bathrobe to insure that the oil penetrates your skin. Put on a cotton robe for 5 minutes. Your skin will feel like silk.

Massage the oil into your feet and slip on a pair of socks for an hour to help penetrate skin.
Use as a massage oil,