Currency: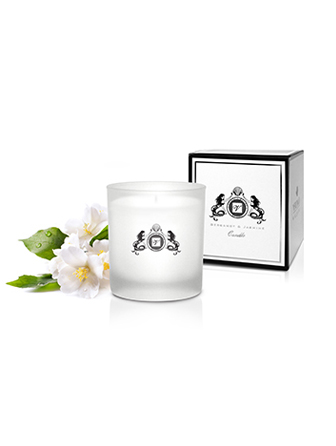 Veronica Malibu Candle
Due to holiday demand, the candles have sold out. Please email info@veronicaskincare.com if you would like to add your email to our waitlist and you will be notified when it is available for purchase again.
The Veronica Mailbu Candle is made with a proprietary organic soy wax blend and lead-free cotton wicks. They are an exotic blend of Italian Bergamot, Sheer Jasmine, Wild Orchid, Herbal Tea and White Musk. The traditional technique of making the Veronica Malibu Candle has been used in France for hundreds of years and allows them to burn slowly and neatly. Approximate burn time: 70 hours.
The Veronica Malibu Candles are animal friendly and environmentally kind.
Fragrance Notes:
Italian Bergamot, Sheer Jasmine, Herbal Tea, White Orchid and White Musk
Wax is a blend of Organic Soybean
Clean burning lead-free cotton wick
Vessel measures 3 1/4 inches in diameter by 3 1/2 inches in height
Candle is 8 ounces with a 70 hour burn time
Reusable Sea glass vessel
Packaged in an elegant black, white and silver gift box
MalibuCandles.com
organic soy wax,lead free cotton wicks, Italian Bergamot, Sheer Jasmine, Wild Orchid, Herbal Tea, White Musk
Your candle will last long and burn cleaner if you trim the candle wick to 1/4 inch. Light your candle and let it burn for 2 to 3 hours. Extinguish the flame with a candle snuffer and allow the candle wick to cool. Cut the wick back down to a length of 1/4 inch about the wax. Relight the candle and burn it for another 2 to 3 hours and repeat the process of extinguishing the flame and trimming the wick.